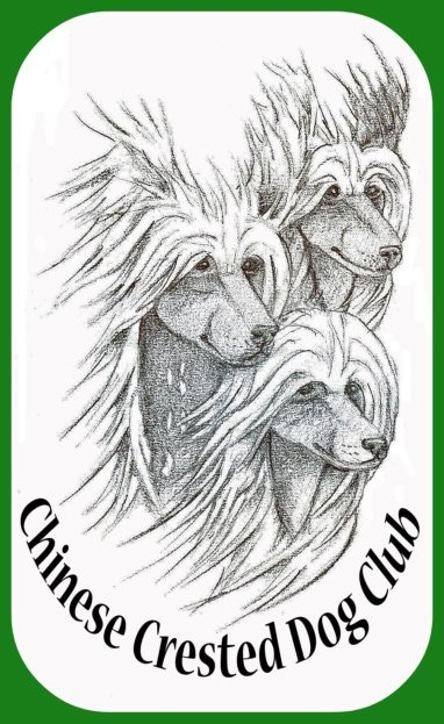 CONTEST OF WINNERS
We held our first Contest of Winners with the top ranking dogs from our Annual Competition coming forward to compete under respected breed specialist Louise Turley (Liddyleaze) for the four coveted titles.
Congratulations to all winners!
Top Veteran and overall winner: Annamac Fairy Tail
Top Powderpuff: Bryelis Private Dancer JW
Top Puppy: Arte Figure Next Level At Casacavallo (Imp FIN)
Top Dog: Pariansoez Innuendo At Jhanchi JW
Reserve Top Dog; Touch Beauty Pride Of The Motherland (Imp RUS)
Main Winner Critiques by Louise Turley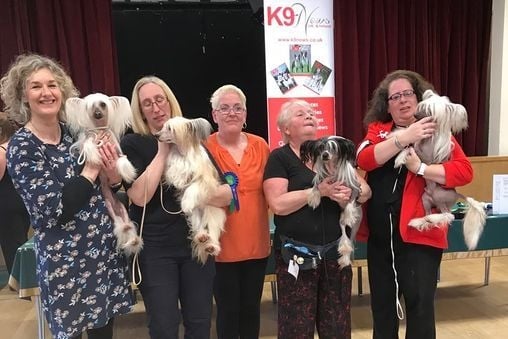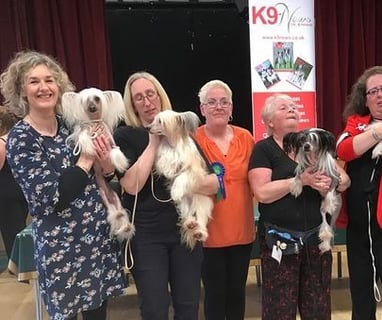 BEST VETERAN Annamac Fairy Tail 10 Year old Liver spotted bitch. WOW what a girl - nothing to hide and Everything a Crested should be. Elegant and Balanced, perfect furnishings and still out moves some of the youngsters
TOP DOG Pariansoez Innuendo At Jhanchi JW. 3 year old B/W Male, very nice head with dark eyes and used ears well, good mouth, lovely length of neck leading into good shoulders. Well balanced body, moved very well and held a good topline & tail carriage, nicely furnished.
TOP PUPPY Arte Figure Next Level At Casacavallo (Imp FIN) 13 month old Mahogany Male, up to size and very much a showman. Dark eye, good mouth and very well used ears all on a lovely head, good neck and nicely balanced body with good muscle tone. Moves like he owns the ring and very much at one with the handler, heavily furnished with good skin .
TOP POWERPUFF Bryelis Private Dancer JW 4 year old erect ear Sable Bitch. Lovely Bitch not over done in any way with a feminine head and dark eyes, good length of neck and depth of chest, very Sound body under a nice coat, moved with reach and drive.